Description
air words
  air sound Phonics Poster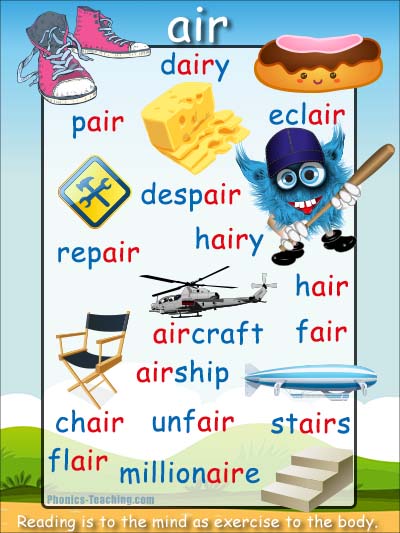 Ideal for Learning Difficulties Students & Early Reading Lessons.

(a phonics poster for you to download and print)
air word list
d

airy
pair
eclair


h

air

y




million

air

e




fl

air


ch

air


unf

air


st

air

s


air

ship




f

air
air

craft




desp

air


rep

air


h

air

How to Download Your air

Words 

Phonics Poster:
Add the

air sound poster

to your Cart using the 'Add to Cart' Button. NB You can only get the resources 5 at a time. #longstory

Press the very small 'View Cart' Button at the very top right of this page.

Press the 'Proceed to Checkout' Button

Add your email address to prove you are human 

Press 'Place Order' and then scroll down to 'Order Details' and click on your resource there. It will open ready to save, print, cut out and laminate.
One Way to Use this Poster:
Students sit in pairs.

Teacher introduces the

air words

 poster on the website and models the onset and rime.

Teacher models giving clues for the students to guess e.g. 'A monster with lots of hair is said to be ______________', 'Another word for fixing your car ______ '. 

Students guess the word and spell it to their partner. 
Another Possible to Use this Poster:
Complete a running record or a student.

If the

air

sound appears to be a sound the student needs knowledge on, go to https://phonics-teaching.com and find & print the

air

 words poster.

Explore the poster together.

Practice the onset & rime.

Place the poster in a loose leaf folder to create a book or personal sounds the student needs to work on. 
Yet Another Way You Might Like to Use this Poster:
Recorded reading – students record themselves reading the word lists (phone, tablet, PC) and listen to themselves reading the words back. Ask them to identify words they need to practice and what they perceive to be the problem. How will we fix that problem?
Where to Next?
How about an air sound phonics flip book or a CVC Phonics Game
Quote about Reading – 'Reading is to the mind as exercise to the body'